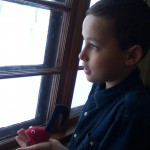 I have been designing a small Mr. Noteman bean bag to use in my music education classes. I finished my latest model last night, so first thing this morning, I showed him to my children, and let them play with him.
As I walked through the living room a little bit later, my nine-year-old son was holding Mr. Noteman by the front window. We are in the middle of a snowstorm here in northern Illinois, and apparently my son was letting Mr. Noteman look out the window.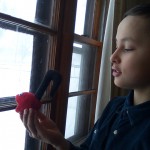 He declared, "Mr. Noteman really likes this kind of weather." I thought that was kind of cute, but then, I started laughing loudly when he began to sing, "Do, re, mi, fa, snow, la, ti, do!"
Needless to say, my son was rather pleased with himself for his little funny.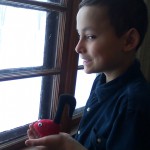 Is anyone interested in either a Mr. Noteman bean bag, or the pattern to make your own?
I am considering holding a coloring contest with a Mr. Noteman bean bag as the prize.